"Poodle in Sunflowers" 12" X 12"
This is my latest
STAT quilt
interpreting a famous artist's style in fabric with an emphasis on texture.
I am part of Alida's
Art with Fabric blog hop
. Please visit the others after you've seen mine!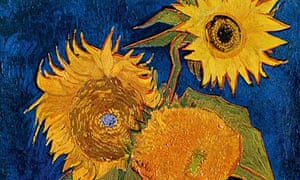 this is my reference photo for Van Gogh's sunflowers. I research my chosen artist and try to decide something to reference. Spirals, bold use of primary color, strong lines and his words were my inspiration.I also have tried to include a poodle in each of these 17 quilts! Just for fun. Just so they reference ME!
The fabric is pre-mounted for the printer and coated to make it permanent once heat set.
An easy way to soften the look and continue the color palette
Then I start cutting and placing fabric with pins
stitched in curls on the poodle
Quickly as if I am painting brushstrokes. I know the thread color and weight will add dimension. I want to mimic brushstrokes. The photo fabric is dense to sew through. The sheer is sparkly with glitter that must be contained or will migrate into the machine.
The applique is held on with stitching only, no fusible, allowing it to curl and fray a bit, which I like.
Note the crystals ironed on around the flowers to add a highlight. I might have hand beaded if I'd had more time.
The sunflower print was short so I added a strip of yellow that I wrote the quilt's info onto.
Before quilting, I pressed under the backing edges all the way around and placed it over the edges already turned to the back. This allowed me to keep glitter from migrating to the machine.
I think van Gogh would have laughed, and liked this tribute to him. He loved nature, was awed by what he saw, and sought like I do, to capture a bit of it in his art!
Hope you had fun, please visit the other artists on this blog hop, finding the complete schedule at
Art with Fabric blog hop
http://www.quiltfabrication.com/
http://www.myquiltinfatuation.com/