Angie, at letting go the Bay leaf, posted this quote today with a powerful article about her trip to Aspen. (
https://tentoesinthewater.blogspot.com/)
It's a tweet by Barack Obama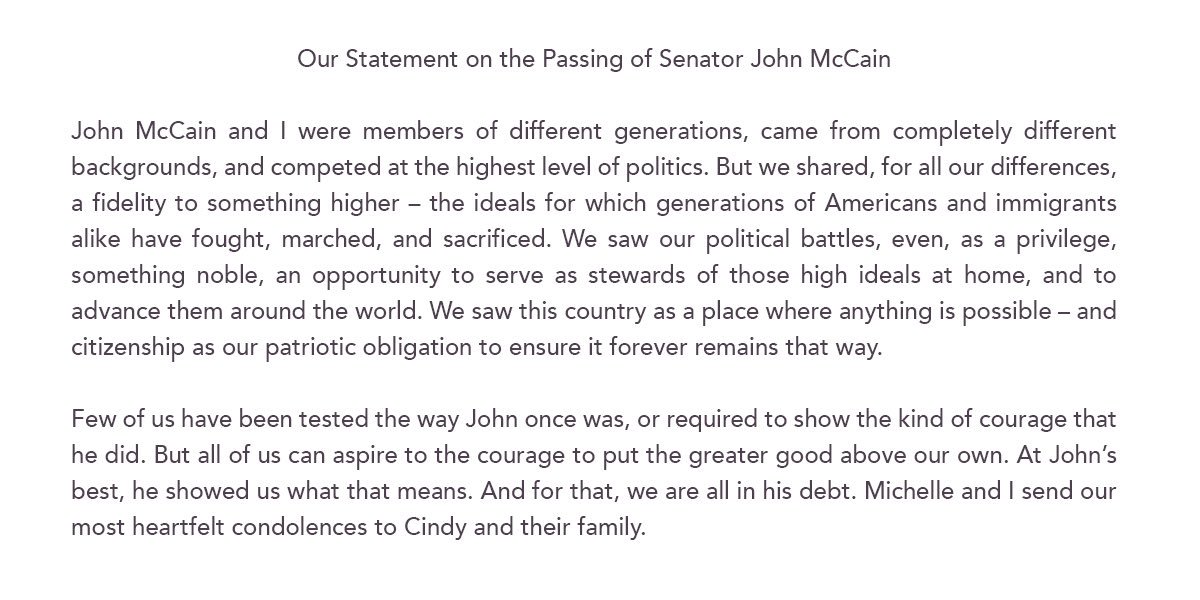 I respected and appreciated John McCain for his integrity and his concern for the citizens of our country. I did not vote for him but could have supported him if he had won. He put the needs of the citizens of America at the forefront of his life's work. He put himself in harms way to fight for his country.
He was able to withstand the onslaught of insults hurled at him.
I did not appreciate the current president's statements to and about Mr. McCain while he was alive. Could it be his attempt to feel superior? Laughing at and disrespecting disabled veterans is ugly.
One cannot rise by stepping on others.
It's not good to try to steal the limelight, better to earn it.
It's important to understand and appreciate the contributions of American citizens, especially those who risk their lives to fight for our ideals.
What ever you think is your business, what I think is my opinion. I respect integrity and doing the right thing.
I have been inspired today, by a good man, to bravely state my opinions without trying to hurt anyone else.
I like this quote by JK Rowling written for Dumbledore:
"Dark times lie ahead of us and there will be a time when we must choose between what is easy and what is right."
It takes great integrity to choose to do what is right.
I am sad that a man of integrity has left this world.